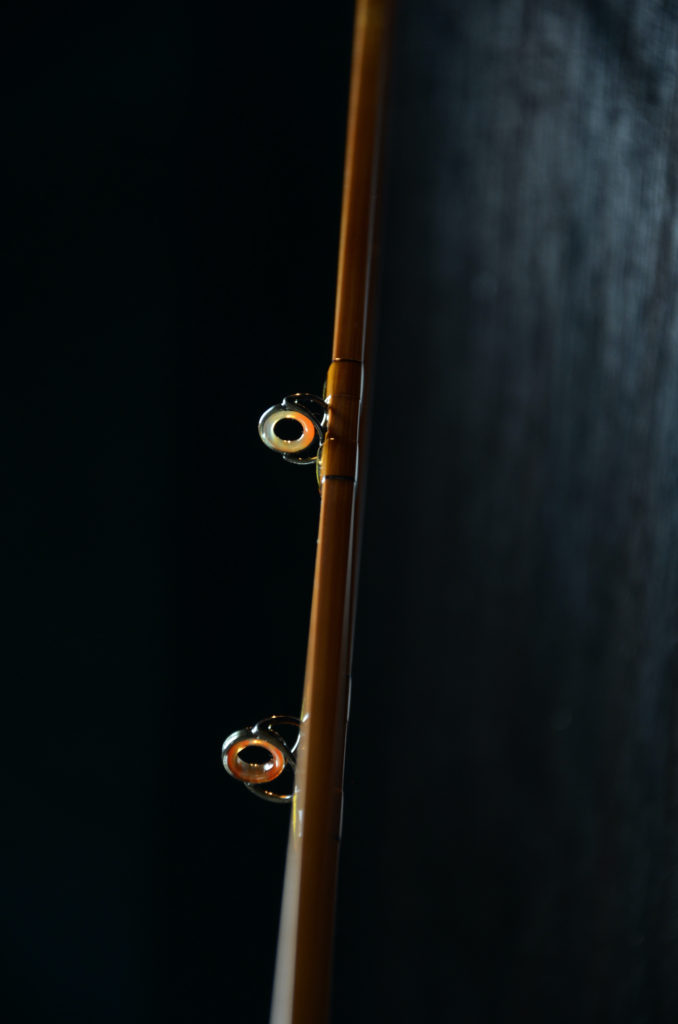 The DSS line of fly rods. Each is exquisitely handcrafted by DS Shumway from Tonkin Cane.
All rods are two-piece and designed for accuracy in casting and delicate presentations. In fact, floating fly lines and flies that do the same in hook sizes 10 or smaller are what these rods are all about.
Two tips are available with every model. The Standard Tip is sensitive, slightly slower in recovery, and imparts incredible "feel". The Standard Tip also responds better to a slightly slower casting rhythm, and offers the angler a more "relaxed" experienced.
The Optional Tip is slightly faster for fighting wind or using larger flies, but is less forgiving of casting errors and a little less sensitive than the Standard Tip.

DSS723
The 723 is the smallest, lightest line fly rod I make. At 6′-0″ in length and designed to cast a 100 grain (3 weight) floating fly line, the 723's crisp action is the perfect little tool for casting tiny flies to wary fish…big or small.

DSS804
I consider the 804 the sweet spot of the DSS line. At 6′-8″ in length the 804 provides a little more "leverage" for casting than the 723 does. And being designed to cast a 120 grain (4 weight) floating fly line it also has an additional advantage in fighting wind and/or using wind resistant flies. The 804 is an exceptional dry fly rod for those who still prefer to keep things a little bit "shorter."

DSS934
The 934 is the longest fly rod I make, and is designed to cast a 120 grain (4 weight) floating fly line. At 7′-9″ in length, by many standards it is still considered a fairly short rod. But I believe this length and weight is absolutely perfect for a rod with a little more versatility than the other rods in my line up. Make no mistake, the 934 is designed first and foremost as a dry fly rod for those who prefer some additional length. But if you also want to bounce nymphs, and swing small streamers…this is definitely your fly rod.